"This Is Us" Cool Effect! It's NEVER Happened Before On TV
I had to go back and make sure that I wasn't seeing things.
But wait! there's MORE!
1. Jack is heard calling out Rebecca's name at the vending machine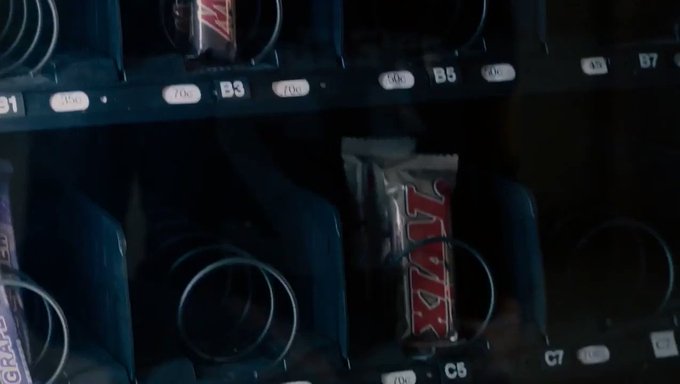 helena.

@noanobrain

I know the caption said "ma'am" but it really sounds like "bec"? also notice how rebecca says "sorry babe" around the time jack dies lol I hate (love) this show #thisisus

8:47 AM - Feb 5, 2018
Moments after the chaos of doctors and nurses running in the background ensued, a brief "Bec" can be heard after Rebecca says, "Sorry, babe." It was very subtle and not heard entirely clear, but it's enough for Rebecca to turn around. Perhaps it was added in to be the final time that Jack calls out for his wife before he passes on?
In an interview with Esquire, Milo Ventimiglia recounted filming that exact scene. "I had recorded a lot of different versions of that, some that were a little more ethereal like I was whispering," he said. "You'll have to ask Dan [Fogelman], but my belief is that it's a presence. That was Jack saying 'Bec?' She turns her head and everything."
2. Jack dying alone explains why Randall did not want to leave William alone before his death
What a story, Mark

@WhatAStoryMark2

Remember when Randall told William he needed to have a nurse so he "wouldnt die while no one was watching" now we know why #ThisIsUs

10:55 PM - Feb 4, 2018
On Season 1, Episode 15, titled "Jack Pearson's Son," Randall leaves work early because his birth father, William, is in a fight with his nurse. "You're a sick old man," Randall yells at him, "and sick old men need nurses to make sure they take their meds on time, and eat their meals on time, and don't die when nobody's looking." Last night, we learned that Jack died when Rebecca left his hospital room to call the kids, further explaining why Randall would be concerned to leave William alone when he was battling cancer.
3. Teen Randall going to see

Titanic was a clue about Jack's death
Justin Nicholson

@GravySauceCream

@JSi5 did you notice the attention to detail in last night's #ThisIsUs episode? Randall went with his girlfriend to see Titanic. Who dies at the end of Titanic? JACK. Those writers are on point.

9:49 AM - Jan 24, 2018



On "That'll Be The Day," the episode leading up to the reveal of Jack's death, Randall asks to go on his first date to see Titanic. The film would not be peculiar choice for any teen growing up in the '90s, except for the fact that the main character — who is also named Jack — tragically dies in the end.
4. The necklace Rebecca always wears was one of the mementos Jack saved from the fire
In a last night's episode, there is a scene in which Rebecca completely lets go of all of her emotion while parked outside of her burned down house. She then pulls a necklace out of the pillowcase that Jack used to save some of their most prized mementos. Jack gave her the necklace, in the episode above, right after he promised to quit drinking. She still wears the necklace in present-day scenes.
5. Actual footage from Super Bowl 52 was playing on Kate's television
The This Is Us producers turned around some pretty quick editing on last night's show. Fans on Twitter pointed out that not only were the correct teams playing while Kate and Toby were dancing in their living room, but actual plays from the championship game were featured on the screen.( There was ALSO a quick scene when Rebecca was sitting on the couch eating lasagna.)
6. The painting Kevin gave Tess is now framed on her wall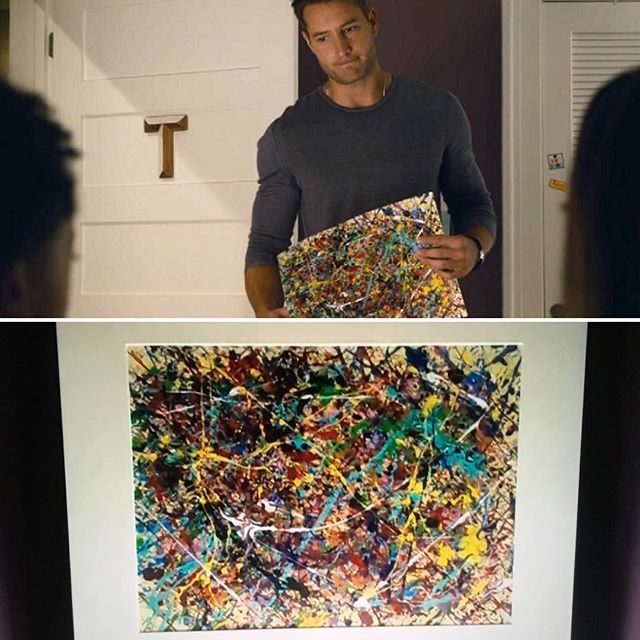 Pinspiration High St

@PinspirationAZ

All the feels!!! "It's kind of beautiful isn't it? The idea that even when people die, just because you can't see them or talk to them - it doesn't mean they're not still in the painting." Kevin Pearson, 2016 #ThisIsUs #kevin #splatterpaint #fullcircle … http://ift.tt/2nD24AS

11:41 PM - Feb 4, 2018



When William died, Kevin used a splatter painting as a metaphor for life and death. "The idea that even when people die, just because you can't see them or talk to them — it doesn't mean they're not still in the painting," he explained to Tess. In "Super Bowl Sunday," the camera pans to the painting, which is now framed on Tess' wall, after we've learned how Jack continues to influence the live of his children as time goes on and despite his death.
7. Sterling K. Brown's Instagram post hints at future plot twists
At the end of "Super Bowl Sunday," we now know that the series will begin to delve into all the character's lives far past present-day. "Ready to see what the future holds?" Brown captioned a photo he shared on Instagram ahead of the episode. However, on the show, the scene that features an older version of Randall takes place in an office setting. In the photo above, Randall is pictured inside of a hospital. Is someone sick? Is someone having a baby? The plot possibilities are endless, but one thing we are certain about is that not one detail can be overlooked on this show.

Scotty Mac
Want to know more about Scotty Mac? Get their official bio, social pages & articles!
Read more