Miley: "Not doing drugs, Not drinking. Completely Clean." (Photo: Getty Images)
Miley told Billboard: "I haven't smoked weed in three weeks, which is the longest I've ever [gone without it]." (Photo: Flickr-by JJ Duncan)
Part of Cyrus's metamorphosis has involved getting back together with her fiance, Australian actor Liam Hemsworth, from whom she split in 2013. "I needed to change so much," Cyrus admitted. "And changing with someone else not changing like that is too hard. Suddenly you're like, 'I don't recognize you anymore'. We had to re-fall for each other." (Photo: Splash News)
CREDIT: The New Daily. CLICK HERE FOR THE FULL STORY
Miley is very conscience of maintaining a down-to-earth approach. "I love talking to people, and I approach them in a normal, 'Don't treat me different, cause I'm not' way. That's what started this evolution for me, getting out of my Dead Petz phase."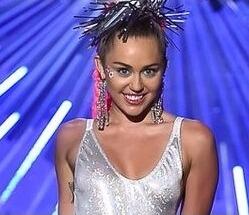 (Photo: Getty Images)

Scotty Mac
Want to know more about Scotty Mac? Get their official bio, social pages & articles!
Read more